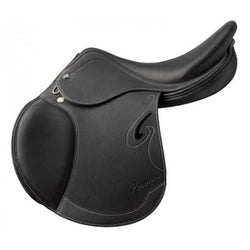 Echipamente Echitatie 2E
PRESTIGE PASSION JUMP RIDING SADDLE
BALANCE AND BEAUTY
Eye-catching jump saddle.
DESCRIPTION
The Passion Jump is a double flap saddle that boasts a beautiful look with elegant stitching. Completely covered in bovine leather, this saddle is soft and grippy. The medium narrow twist, the narrow deep seat and the square cantle facilitate a close contact feeling with the horse. The white elegant stitching that embellishes this saddle can be made upon request tone on tone, depending on the rider's preference.
PLUS
DOUBLE FLAP
MEDIUM DEEP SEAT
ELEGANT STITCHING
Why should I buy it?
Elegant look with a narrow twist, mediumdeep seat and square cantle.
Order by Phone: +40 725867219