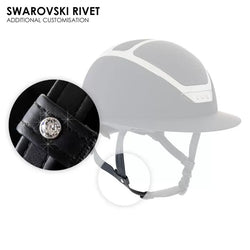 EchipamenteEchitatie2e
Kask SWAROVSKI RIVET Customization
CUSTOMIZED HELMETS MADE TO ORDER - TIMING APPROXIMATELY 20/30 days
This customization for KASK helmets adds a touch of personality and elegance to your helmet.

SWAROVSKI RIVET * is the customization that consists in adding rivets with Authentic Swarovski on the strap of your Kask. It is a special touch of elegance for those who do not like excessive personalization but do not give up on style.

To get the custom helmet just add a KASK helmet to the cart, such as Dogma Light, Dogma Pure Shine or Star Lady, and add this and / or other customizations.

You will receive your personalized helmet!
* the price is ONLY for customization, you must also buy a KASK helmet to get it.