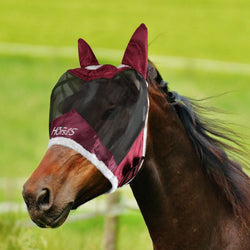 EchipamenteEchitatie2e
Fly Shield Pro Mask
"Fly Shield Pro" Mask made of thin mesh fabric to protect even from the most annoying insects.
The thin mesh and the breathable fabric for the ears allow a continuous flow of air to offer excellent protection against small flies and midges and at the same time make the mask breathable and not bulky for the horse.
The ergonomic shaping and the fleece padding along the seams keep the mask away from the eyes and guarantee a snug fit.
Safety straps closable with adjustable velcro straps.
Color: Burgundy