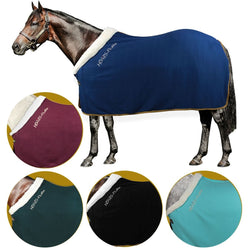 EchipamenteEchitatie2e
Fluffie Fleece Rug
"Fluffie" fleece rug with fur insert on the neck.
Soft and comfortable to use while walking the horse. Thanks to the insert on the neck, annoying bruising or abrasions that could occur on the most sensitive and delicate horses are avoided.
Horses Fluffie embroidery on the left side of the neck and gold piping.
Equipped with front closure and nylon undertail cord.