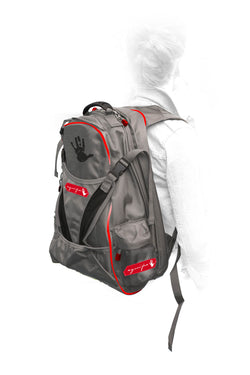 EchipamenteEchitatie2e
EQUIPE BACKPACK - BS07
The Equipe Grooms Versatile Backpack is the perfect ringside backpack for horse shows and every day at the barn.
Shiny pewter grey ripstop outer is snag-resistant, water-resistant and durable.
There are stretch mesh panels and stretch pouch pockets to accommodate odd-shaped items, including your riding helmet.
Roomy equestrian backpack has wide ergonomic shoulder straps that are lined underneath with soft microfibre material.
The interior has a laptop sleeve w/ security straps, mesh divider, and a mesh pocket.
The Equipe Grooms Versatile Backpack is padded where it rests on your back and that padding will help protect your laptop, too.