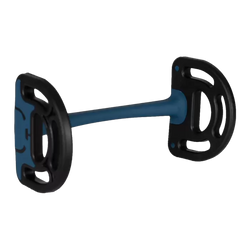 EchipamenteEchitatie2e
Acavallo Sensitive Bit
Acavallo Sensitive Bit
, made of an 
innovative anti-allergic plastic material
 instead of a metal alloy.
Its 
slightly arched and flattened cannon
 ensures that the pressure on the tongue and the corners of the mouth, if applied, is evenly distributed.
The 
monoblock design
 of the bit and the rings 
prevents a compression or a pinch
 on one side of the tongue or the jaw, as well as painful irritations of the palate (no "nutcracker effect"). Increases the safety of the horse in the rider's hand thanks to its quiet and comfortable positioning in the mouth, helping the horse to find its balance.
Thanks to its 
flexible and integrated steel reinforcement
, it offers a soft but very safe control of the horse.
An ideal choice especially for the schooling of young people and the correction of difficult horses.
Made in Italy
Dimensions: 135 mm.
Weight: 68 g